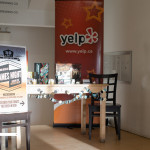 Photography: Thank you to Fo Fotography for capturing the evening!
Venue: The Yellowhead Brewery
Prizes: Thank you Breakout Edmonton, CJSR, The Hexagon Board Game Cafe, Metro Cinema, and Yelp for contributing prizes to the event!
Special Mentions: Thank you to YEGTweetup and Yelp for all of your help in promoting the event!