On September 27th, the Alberta Podcast Network hosted their official launch event. The event was the kick off of the Network's marketing strategy and sponsor outreach. Powered by ATB, the event was also an opportunity to support and reinforce their decision to invest in Alberta Podcast Network as both parties embark on an exciting and successful endeavor together. For guests, we wanted to create an opportunity that they could learn more about the Network, see the faces behind the podcasts and learn about how to access the resources.
The event was an opportunity to showcase some of the network's current podcasters, in addition to positioning the Network as a leader and ambassador for the next stages in innovative and accessible media.
In the Foyer of CKUA, registration and a reception were held from 7:00 PM – 7:30 PM. As guests checked in, they were asked to select one of three button designs: I ♥ Alberta Podcasts, Pod Curious, and Pod Power. The purpose of the buttons was to encourage guests to pick the design which they identified with and then wear as a means to start conversations with other guests. The podcasters wore buttons that said "Ask me about my podcast" so that guests who knew the podcast hosts were in the room.
During the reception, guests enjoyed Prosecco and conversation.
Following the reception, guests then took their seats in the Music Hall for the formal program from 7:30 PM – 7:50 PM.
Once the formal program concluded, guests were invited to take in any of the interactive experiences in the Foyer area, enter either of the two draws, meet the podcasters. enjoy coffee and dessert, and mingle. A Listening Lounge was set up where guests were invited to listen to a highlight reel featuring brief snippets of the various podcasts that are a part of the Network. The process also walked guests through where they could access the Network or the various podcasts.
As guests made their exit, hosts stationed by the doors handed guests complimentary sets of branded ear buds, provided by ATB, and postcards with details about the Alberta Podcast Network.
For a listing of all those involved with the event, and to whom we extend many thanks, please see below …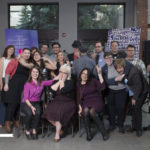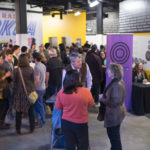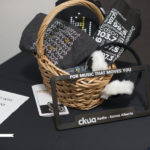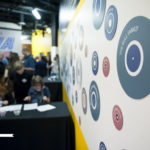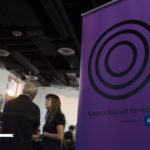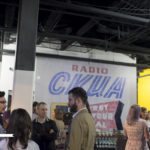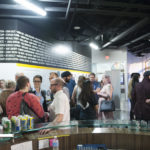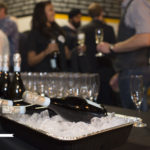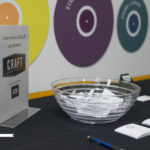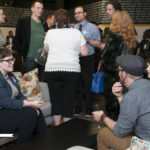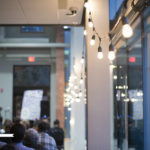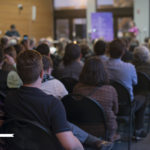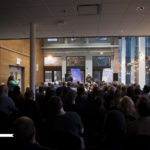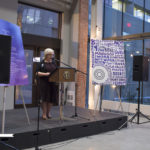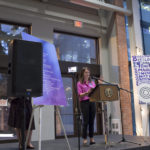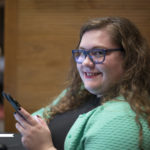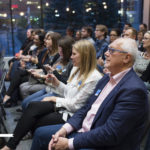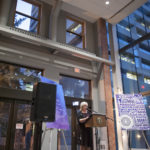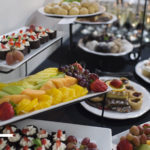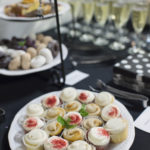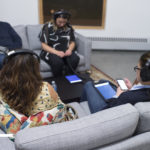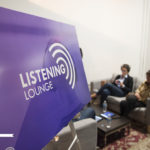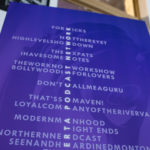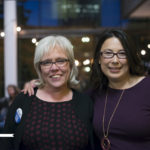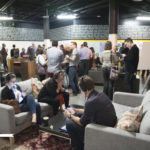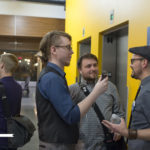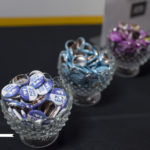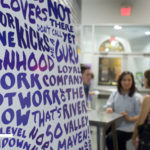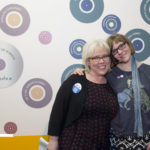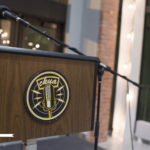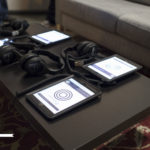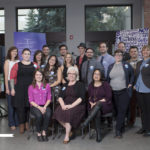 Event venue: CKUA
Client: Alberta Podcast Network
ATB Special Guest Speaker: Lana Cuthbertson
Founding sponsor of the Alberta Podcast Network: ATB
Prizes from: ATB and CKUA
Event Photography: FO Photography
Catering from: Bridge's Catering
iPads supplied by: FMAV
Event planning and onsite support: Tycoon Event Planning & Promotions
Onsite social media promotions: Britney (on behalf of Alberta Podcast Network) and Scott (on behalf of CKUA)
DJ: Jeff Williams of GRadio