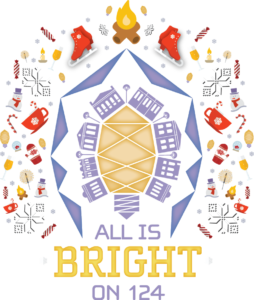 On Saturday, November 19th the 124 Street Business Association hosted the 4th annual 'All is Bright' winter festival, welcoming 5,000 festival go-ers to the area.
The festival's main site was located on 124 Street and 102 Avenue, and extended to 123 Street and Jasper Avenue
There were additional activities and installations that extended north, up 124 Street, to 108 Avenue.
The festival ran from 4:00 pm to 9:00 pm, with the 'Light Up Ceremony' and Countdown taking place at 6:00 pm from Main Stage.
CTV News Segment seen here!
A great clip from Mayor Don Iveson's greetings on Main Stage, shared via twitter:
Great #yegwinter advice in action at #AllisBright festival on @shop124street:
GO PLAY OUTSIDE! ❄️ pic.twitter.com/QcuPvby9UM

— Don Iveson (@doniveson) November 20, 2016
SUPER EXCITING! This year we also created, with the help of VSM Photo, our first promo video as a highlight of the festival, which includes testimonials from festival go-ers about their favorite part of the event and the 124th Street Area!
And even more exciting! This was the first year that we introduced 'All is Bright' branded glow stick wands and necklaces!
Event poster and Save the Date Handbill: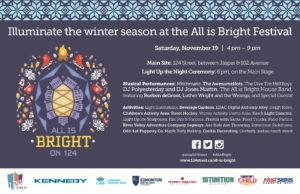 Event programs handed out onsite:
Some photos (taken by FO Photography) from the event: