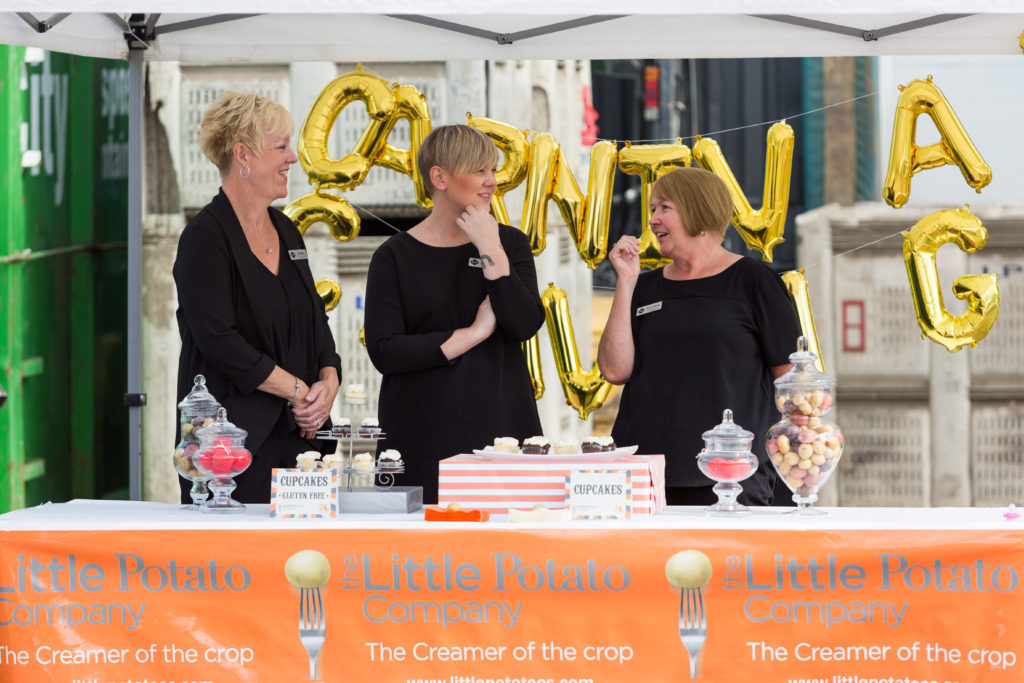 Photo by Curtis Comeau Photography at The Little Potato Company's Family Day Event.
At Tycoon we get asked a lot of questions about all the different roles event planners are responsible for; from what roles we fill in the lead up to the event, to the roles we're taking on at the event. The life of an event planner is busy, and exciting! Everyday there's an opportunity to take on a different task and wear a different hat. You'll find an event planner demonstrating a different skill and being adaptive everyday, from attention to detail, to creativity, to organization and to much more! It's not hard to say that no two days are the same. Below we'll talk about some of the different event planning roles, what makes each unique, and what services you'll want to hire as part of your next event.
An onsite event manager is responsible for managing logistics on the day of the event, onsite at the event venue. Their role, prior to the event start, can include such things as: overseeing event flow, managing timelines, managing event staff and volunteers and running through any required rehearsals, presentations or performances. Once the event has started their role includes: overseeing stage management, overseeing the event flow and timings, acting as a direct point of contact between the client, venue, entertainment, AV, event staff and volunteers, and managing event logistics. The value of hiring an onsite event manager is so that the client, who is typically hosting the event, can focus on being front and center and available to guests rather than occupied and busy with details and vendors throughout the program.
An event stylist is the creative force of an event team who focuses on the aesthetics of an event, the "feel" of the event if you will. They help to create the mood and atmosphere of the event. The event stylist is the person who works specifically on arrangements, decor and the overall aesthetic feel of the event. If a stylist has been hired on to a project, in addition to the event planner, the event stylist will work with the event planner to ensure that the decor plan is aligned with the overall plan of the event. The event stylist, though responsible for all of the logistics associated with the decor plan, will need to ensure that the event planner is aware of all logistical needs and ensure that they are feasible.
Managing volunteer and event staff includes identifying and defining the various roles and areas where staffing support is needed, coming up with a staffing schedule, drafting a volunteer call out, managing volunteer recruitment and registration, managing communications, hosting volunteer orientations, ensuring that all volunteers and event staff are equipped with all of the information that they require, to being a point person on the day of the event.
Event sponsorship and fundraising is an opportunity for event planners to get creative when coming up with sponsorship packages while demonstrating specialized event planning skills. Take the time to understand your client. Who are the sponsors that align with their organization and their values? Who should you be reaching out to so that their support of the event aligns with their company's mission? Approaching companies and organizations for financial support is never an easy task. The more thought, value-added thinking, customization, and attention to detail that goes into the package and approach will lead to more successful results in the end. Like most pitches, think of how many asks go out every day. How are you making yours stand out from the rest?
Event promotions and outreach before your event create targeted awareness. Event promotions and outreach during your event: capture key moments and take the event conversation online. Each promotions strategy is tailored to meet the goals and demands of each event. We create a greater awareness of the event, increase registrations, elevate engagement and the conversation. A well thought out event promotions strategy becomes part of the storytelling process that aligns with the purpose of the event, which, on a much larger and more holistic scale, is part of the overarching vision of our clients. With purpose, detail, and clarity in our event promotions, we never lose sight of our client's main goals and large-scale strategies.
Full event management is the composition of all areas of managing an event. Responsible for consulting, project management, onsite event management, decor plans and styling, event volunteers and staffing, sponsorship, registration, marketing, promotions, communications, stage and production management, vendor and venue coordination. Whether sub-contracting various services or fulfilling them directly, full event management relies on one main point of contact for all coordination and management. Their job, as the main point of contact for the event, is to ensure that there is cohesion, clarity, collaboration, communication, timeliness, organization, and order to the planning process.
And those are just some of the many, many roles an event planner can fill for your event. Organizing an event is a large task, but with an event planner who has strong organizational and communication skills, years of experience and a passion for detail, hosting your perfect event is easy. At Tycoon, we'll work with you to capture your vision for an event and help you achieve your desired outcome.
– Your (Newest!) Tycoon Allison, xoxo
Subscribe to Blog via Email