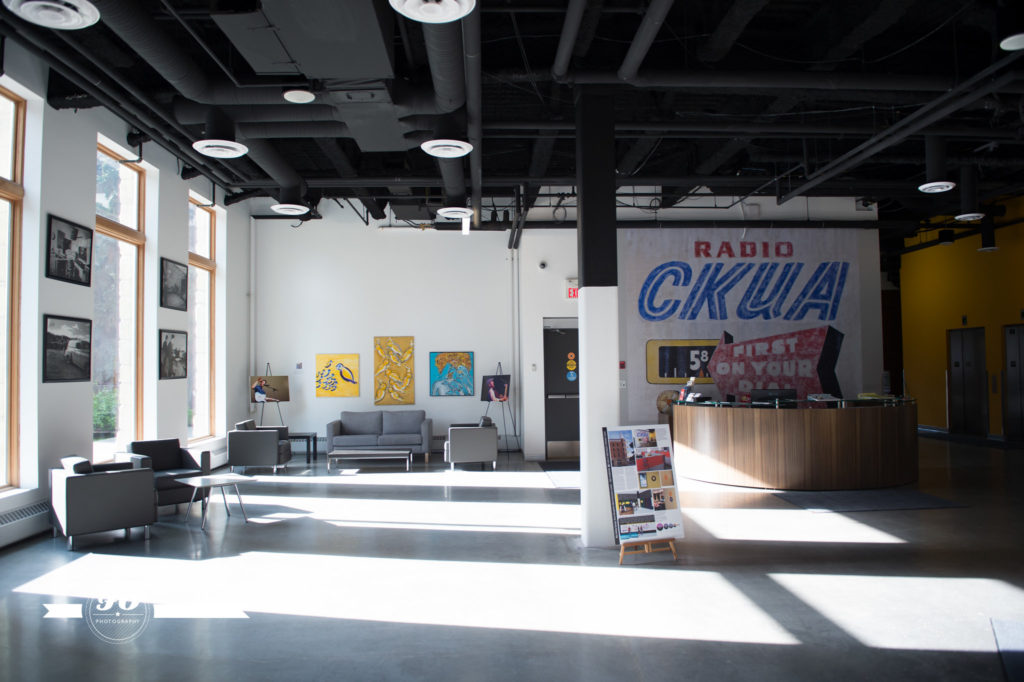 Photo above: Shown here is the CKUA Building located on Jasper Avenue in Edmonton, Alberta. This photo was taken by FO Photography as part of Tycoon Event Planning & Promotions' "Let's Crawl" series.
I think we can all agree – you can't bake the perfect cake without the perfect mix. You can't paint the perfect picture without the perfect set of tools. And you definitely can't host the perfect event without the perfect venue! But to find that perfect space, you first need to know what questions to ask and what to be looking for.
Last week we profiled a series of venues from our "Let's Crawl" venue crawl. In an effort to showcase some hidden or well-known gems in the City, and put the spotlight on some local businesses, Tycoon Event Planning & Promotions hosted a micro venue crawl for a group of industry professionals.
Having seen and worked with a lot of venues over the years, here are some things to consider and questions to ask when on the hunt for your next event venue or when doing a site visit:
LOCATION:
– Is the venue easy to find?
– Is the venue accessible?
– Consider parking availability
– Be sure to communicate to guests any directional instructions to be aware of and/or parking rates and where parking is located.
THE BOOKING:
– Be sure to ask, if there are multiple event spaces at the venue, if any other groups are booked in on the same day as your event. This will flag if additional directional or event signage needs to be placed out, if noise is of concern if the event is in the adjacent room, if the parking lot(s) may be extremely busy.
– Confirm what time you are able to access the room on the day of the event and what time you are able to be onsite until.
– Double check what deposits or guarantees, and any affiliated dates, you should be aware of.
– Confirm who your main point of contact will be.
– Confirm who the person in charge from the venue on the day of your event will be.
– Inquire as to whether or not events such as yours might have been done in the past and what suggestions the venue might have. Why re-invent the wheel if you don't have to!
– Depending on the date of your event, consider any special events that may be taking place that same day and if there are venues located in the vicinity of your event venue, be aware of travel delays due to higher volumes of traffic, delays, increases in foot traffic in the area, parking challenges and how you may want to elevate communications to your guests so that they are prepared and have ample information about how to get to the venue and make it easily and successfully to your event.
EVENT SPACES:
– Be specific with the venue about what areas you require as per the event format – i.e. if you need a registration space, a reception space, and a space for a seated dinner.
– Is air conditioning/fans available?
– Are temperature levels able to be adjusted if needed in any of the spaces?
– If so, will you have access to do this on the day of your event or will an onsite staff be needed?
– If needing to be done by someone at the venue, who will be your contact and how will you contact them if needed?
– Do you need any extra rooms for volunteers, storage, event staff, green rooms, etc.?
– If so, do you need room keys to any of these spaces? How many keys do you get? Do these rooms lock? Who has access to them? Be sure to confirm the hours that you have reserved these rooms.
CATERING:
– Is catering offered onsite?
– If not, and you are required to hire in catering, are there preferred vendors to use?
– If bringing in a caterer, things to consider:
– Do they have a kitchen available to use?
– Are there any fees to bringing in an outside caterer, more specifically if they are not a preferred vendor?
– Are there any limitations to be aware of?
– Does the garbage/recycling/bottles have to be removed at the end of the event? If so, confirm instructions with the venue.
– Is storage available for catering supplies?
– Is dishware/glassware/flatware available?
– Are linens available?
– Consider power access and let your caterer know.
FLOORPLAN and CAPACITIES:
– Be sure to request the floorplans of the space(s) from the venue so that you can plot out your floorplan(s).
– Be sure to ask for, and confirm, all capacities of the spaces, with and without furniture/extra tables/decor/AV/etc. that may be required as part of your set up.
– Consider traffic flow.
– Mitigate any potential bottle necks based on traffic flow, being mindful of your guests, event and/or catering staff, entertainers, decor, etc.
– Do your guests have enough room to move around comfortably, whether standing or seated?
– Be aware of any height restrictions in terms of the ceiling heights.
– If needed, are you able to suspend decor from the ceiling and/or is the proper rigging set up?
– Is the venue wheelchair accessible?
– Be thoughtful and aware of how your guests will flow from one space to the next, if using more than one area.
LIGHTING:
– Is the lighting able to be controlled via multiple switches and/or dimmers?
– Be aware of where all of the lighting and controls are.
– Be sure to test the lighting and check what it looks like at the time that your event would take place..
– Have the light bulbs all been checked and if no, will they be checked, and changed if necessary, before your event?
WASHROOM FACILITIES:
– Where are they located?
– Will they been stocked, cleaned, and checked before your event?
– Is someone onsite to check them if needed on the day of your event?
– Where are extra stock located if you need to be in charge of this on the day of?
– If your event is targeted at families, are changing facilities available to parents with infants or small children?
AV:
– What AV is included in the cost of the venue hire?
– Is an AV tech available onsite?
– Are there preferred vendors to hire in if the venue does not provide AV onsite?
– Ensure that a site visit is done with your AV team prior to the event to flag up anything o their end that you may have overlooked or be unaware of.
– Do you require a stage or risers? If so, does the venue provide this? Don't forget to think about steps, hand rails, and skirting for your stage if needed.
– Do you require a podium and mics? Does the venue provide this?
– Do a quick sweep and see if screens (standalone or drop downs) are provided and if you require them.
– If needing a projector, is one provided? If so, is it mounted to the ceiling or is it set up on a table or trolley?
– Where will your AV tech table be set up if you need an AV tech onsite for your event?
– Have you tested the sound system and screens if the venue provides them?
PERMITS:
– If wanting to serve alcohol, is the venue licensed for alcohol service? Is a liquor permit required?
– Is event liability insurance required?
– Will SOCAN fees be an additional cost?
– Are there any noise restrictions and/or times to be aware of?
– If your AV company is using fog to elevate lighting, do you need to suppress the fire alarm system? If so, you will need to understand the process that you need to go through to make this happen and what fees may be associated with doing this.
– Are vendor permits required?
– Are fire permits required?
POWER:
– Be sure to map out all access locations to electricity.
– Depending on your power draws, be aware of how many circuits area available and what outlets are part of which circuits so that you know what can be plugged in where and not blow any power.
– Be aware of where access panels are located should you blow the breaker.
– Check that the power access is on and electricity is available at all outlets which you require.
– Are any of the power sources on a timer?
FURNITURE:
– Does the venue provide any furniture that might be available to you that you can incorporate into your event?
– If so, are you able to move it on your own or do you have to have onsite staff at the venue do it? If the venue provides this moving service, is there a cost and are there particular hours that this needs be done within? Something to consider when scheduling your set up times!
– Does the venue provide tables (confirm rounds or rectangular banquet tables)? If so, is there a charge to use them?
– Does the venue provide chairs? If so, how many are there? What do they look like? Is there a charge to use them?
– Have you thought about whether or not a coat check area is needed? Is one available at the venue? If the coat check is not a defined space, do they provide coat racks and hangers? If not, is there an optimal area to set this up?
RESTRICTIONS:
– Be sure to ask the venue about any restrictions around:
– Open flames and flame heights.
– If real wood and/or moss is permitted, depending on your decor plan.
– Building hours of operation and access.
– If particular types of entertainment are allowed, i.e. fire dancers.
SECURITY:
– Is security required and if so, do they have a requirement of a guard to guest ratio?
– Is any of your event space open or accessible to the public?
– If so, what measures are in place (on your end or by the venue) to mitigate risks and manage security?
SET UP:
– Are there particular times that you're able to get in and set up?
– Is set up and/or deliveries an option for the day before your event?
– Does anything need to be refrigerated if setting up the day before and do you have access to a fridge/cooler at the venue? Have these arrangements been made with the venue?
– Does someone need to grant you access to the building if setting up early or the day prior to your event?
– Have you coordinated all of your drop offs and deliveries with the necessary parties and the venue, including all information specific to delivery instructions?
– Is the venue able to provide you with food and beverage while you set up if needed? Do you need to bring this in? Is this ok with the venue to bring in outside food and beverage for your set up team?
TEAR DOWN and CLEAN UP:
– What areas of clean up are you responsible for?
– Have you pre-arranged to store anything overnight or does everything have to be removed at the end of your event?
– Are there additional costs if cleaning does not meet the venue's standards?
– If storing things overnight, be sure to coordinate these arrangements with the venue.
– If a rental company or other vendors are picking up any items left overnight, be sure to coordinate all details/instructions/contact details between the venue and the people picking items up the following day.
It might seem like a lot to think about now, but knowing what questions to ask and what things to look out for will help ensure that you are fully prepared in advance of your event and not putting out fires on the day of as they relate to the venue that could have been avoided. Happy venue hunting!
– Your Tycoons, xoxo
Subscribe to Blog via Email