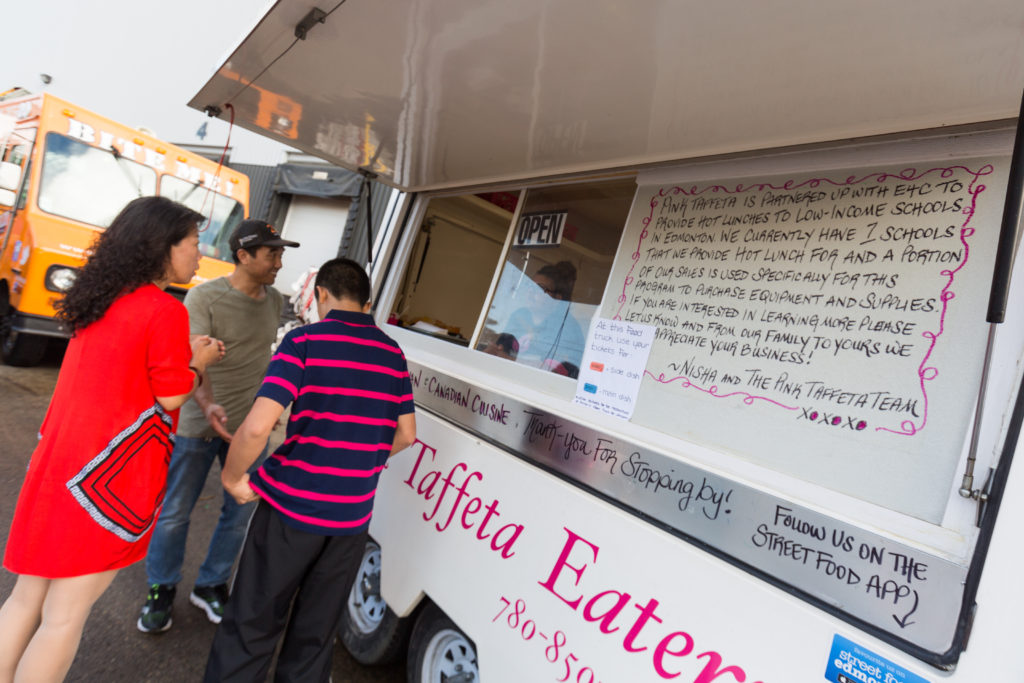 Photo above: This photo was taken by Curtis Comeau Photography at The Little Potato Company's annual Family Day Event last September.
Food trucks over here, food trucks over there, 'tis the season to see food trucks everywhere … and that includes events!
Food trucks are a fun alternative to catering and an option that can allow for a lot of variety in the menu options you're able to offer to guests.
Some tips and FYIs that we've found helpful when having food trucks at our events:

Portion sizes:
– If you plan on having multiple trucks out at your event, it might be worthwhile to ask if the trucks are able to reduce portion sizes so that guests are more inclined to try several dishes, rather than just having one main dish.

Themes:
– Don't be afraid to ask trucks if they can create a bespoke dish for your event that aligns with your theme or name of the event. Is there a particular ingredient that you want to have included in a menu item? A certain color perhaps? Some trucks may be a franchise, so you'll need to mindful that they will not have as much flexibility as other trucks, but they can likely re-name a dish for your event that they would typically provide.

Windows:
– Be sure to clarify what side a truck's window is on and factor that into your site plan. You want to make sure when your truck(s) show up and get into position their windows are facing the right way 🙂

Strength in Numbers:
– Don't be afraid to have multiple trucks at your event. We've had a couple of rough moments when trucks weren't happy that they weren't going to be the only truck at an event. Be open about how many trucks you are going to have at your event and whether it's a public or private event. Then the decision is up to the truck(s) if they want to attend or not.

Power:
– Be sure to let food trucks know if power is accessible or if they'll need to provide their own generators. Most trucks are fully equipped, but it's good to clarify just to be on the safe side.

Fees:
– Having a truck at your event is guaranteed business for them. At some of our public events we ask trucks to provide a percentage of their sales to the event in order to help offset event-related expenses. If you do this, make sure the truck(s) are aware of this upfront so that they can determine if they're comfortable with this or not.

Selection:
– We try our best to always ensure we have enough of a variety with food trucks at an event so that there isn't any direct competition between the trucks. This also shows trucks that you're being considerate to their needs. If there are trucks with similar menu items we try our best to ensure they are placed away from one another.
– Don't forget to cater to your vegetarians and other dietaries. Having trucks that offer dishes that guests with special dietaries can eat is always important to factor in.

Communications:
– I find that the food trucks tend to be busy and some also operate a restaurant over and above the food truck. I try to keep the number of emails back and forth as straight to the point as possible and ensure that there aren't too many emails going back and forth.
– Be prepared to chase, chase, chase 🙂

Social Media:
– Some trucks have a strong social media presence. When attending a larger, public event, we will ask the food trucks to help promote the event by giving them sample tweets/Facebook posts and graphics that can be used, along with any important handles or hashtags. The more people that come out to the event means more sales for the trucks.
Now we can't give away all of our secrets or tricks of the trade, but that's a great start so that you can keep on truckin'!
– Your Tycoon, Eryne XO
Subscribe to Blog via Email