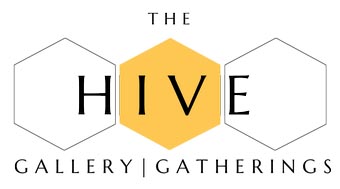 As most of you know, one area of the event industry that gets me excited are event venues. That moment when you happen across a space that's a hidden gem and the possibilities of events to be just seem to wash over you unexpectedly. I love those moments. And what gets me even more excited than discovering new gems to add into my Rolodex (if those were still a thing!) of event spaces, is when there's a brilliant person or team behind the scenes that you get to work with (Cheryl and Rebecca, I'm talking about you!).
The Hive, located on Canmore, Alberta's Main Street, is one of these very places. A two-story space, the venue is a mix of event space within a fine art gallery.
Much like its creative environment, the venue is perfect for someone who is able to get creative with what sorts of events to host in the space and for something that might be a little outside of the box. Those are my kinda things! Though the venue is quite often booked for smaller weddings and private functions, it's also perfectly set up for corporate clients looking to host company retreats, strategy and planning sessions, lectures, receptions, presentations, or workshops.
The space offers a beautiful, fully-equipped board room, plenty of rooms and options for breakout sessions or activity spaces (these also happen to be smaller gallery areas), two larger areas for seated meals or cocktail-style set ups, a functional kitchen space, a gorgeous balcony that looks out onto the mountains, and a wealth of tables, linens, charts, and other materials that one might need.
The Hive offers different in house catering packages that feature locally sourced food and beverage, and if you're lucky, some homemade cookies baked right onsite.
With a new boutique hotel being built across the street and free public parking right behind the space, it's incredibly convenient and accessible. With a roster of entertainment options and service providers on hand, it's clear that the team has put a lot of thought into the details and support that make the planning process as easy and painless as can be.
So, if you're on the hunt for a destination venue and if the above seems to fit the bill, then look no further. Buuuut, if you happen to be in Canmore and you want to scope out a few additional spaces before making the commitment, might I also suggest popping into BLAKE Canmore for one of the tastiest meals that you'd ever had. If you need a little help, I'd say go for the Crispy Thai Brussels … mmm! And once your belly is full with delicious bites and bevies, head on back to The Hive and I promise that you'll be in great hands!
Check out some of gorgeous photos of The Hive here, or here:
– Your Tycoon, Eryne xoxo
Subscribe to Blog via Email