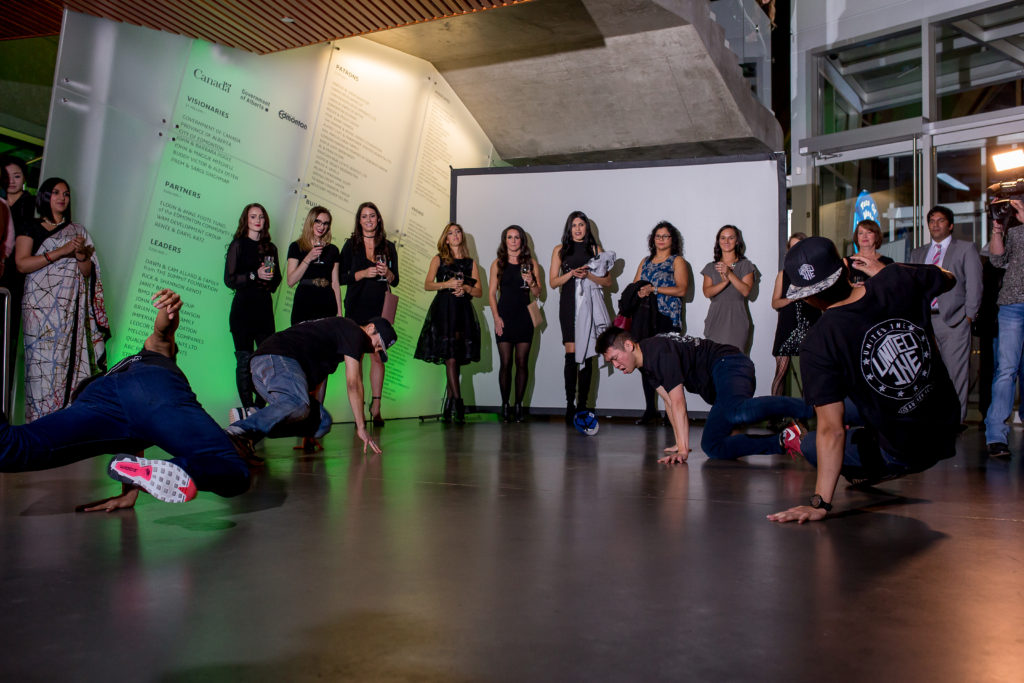 Photo above: Break dance group, UNITED 1NE, performs at the "All in for Youth" fundraising gala presented by TD Canada Trust, United Way, DKNY, and Sarah Chan. Planning for the event was done by Rowena Cui, COO of Planit Sound. Tycoon Events was brought on board to assist with the event styling and decor.
The 'What':
Martin D'Onofrio, of Free Press Media, defines engagement as "an emotional involvement or commitment or an agreement to be married: the act of becoming engaged or the state of being engaged to be married. Now, let's think about how powerful these statements really are to you and your business. Think about how to best use your knowledge, experience, product(s) and service(s) to best engage your audience."
The 'Who':
Engagement really is all encompassing and impacts everyone. And most importantly, no one should be overlooked. With respect to events, whether its communications and promotions, event staff and volunteers, activities and activations, presentations, speakers, contests, social media, food stations … I could go on and on … there is always the opportunity and potential to maximize how one connects with and encourages participation from each person in the room.
The 'Why':
But why is this important, especially in respect to audience or participant engagement?
It means capturing your audience's attention and interest. Evoke emotion! It means getting your audience involved. Activate their senses! It means getting your audience to make a commitment. Create value and demonstrate purpose!
If you want to read the full article from Martin on Audience Engagement, you can find it here. Worth the read 🙂
The 'How':
Though it may seem overwhelming and pose unique challenges, engaging your audience requires:
– understanding your audience and what their interests/values/needs/priorities are
– be thoughtful
– be specific
– consider the time commitment being asked of your guests and be mindful of your audience's schedule in terms of what amount of time is appropriate to request of the to dedicate to attending your event
– focus on interactive, immersive experiences and activating all of the five senses where possible and if applicable
– how are you communicating and delivering value to your audience (this is the "what's in it for them to attend") and most importantly, is that resonating with your audience
– be aware of who is in the room and who does your audience want to have in the room
– have a clear purpose and ensure it's communicated effectively
The 'When and Where':
Mentioned above, because engagement affects and impacts your audience at different event touch points, it's important to be aware of when and where engagement should be top of mind. Some areas of focus might be:
– networking opportunities,
– speakers or panelists,
– facilitators,
– Q&A sessions,
– entrances and exits into your event,
– registration,
– food stations,
– communications being sent out about the event,
– social media communication and promotion,
– entertainment and activities,
– signage,
– presentations,
– contests, and
– post-event communications
Further food for thought:
Some articles that you might find worthwhile checking out that provide some great information of the topic of audience engagement are:
– "How To Boost Event Engagement For Millenials: E-Sports Arenas, Live Videos, Instagram Stories"
– "20 Proven Ways to Engage Your Audience"
– "Event Marketing Trends"
Until next time my fellow eventprofs,
– Your (very much engaged!) Tycoons, xoxo
Subscribe to Blog via Email