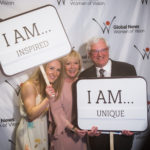 AV: Production World
Entertainment: Firefly Theatre & Circus and Kita no Taiko
Event planner: Tycoon Event Planning & Promotions
Event presented by: Lesley MacDonald and Global News Edmonton
Florals: Laurel's On Whyte
Graphic Design: Odvod Media
Jazz Band: Brendan McGrath Jazz Trio
Kleenex: Promo Addict
Printing: Burke Group
Photobooth: Honey Bee's Photo Booth
Photographer: Nick Hirschmann
Printing: Burke Group
Recipient awards and pins: Rowles & Company Ltd.
Recipient reception: The Fairmont Hotel Macdonald
Rentals and props: Etc. Decor
Social media: Odvod Media
Stage management: Michael Kryton
Venue: The Shaw Conference Centre
A very special (and BIG) tycoon 'thank you' to all of the amazing, talented event volunteers, Lesley MacDonald and the WoV Board Members, this year's recipients, and the event sponsors for all of your help, collaboration, and support!