On Sunday, December 17th the Little Potato Company hosted their annual Children's Christmas Party at the Edmonton Inn and Conference Centre. This year's theme was, you guessed it, based on "How the Grinch Stole Christmas".
As guests entered into the venue, they were greeted by Grinch-style footprints that read "This Way Little Potatoes" and characters with signage pointing them towards the event. Both visual aids acted as way finding signage. The characters were also designed to be multi-functional as their signs were removable and once all guests had arrived, the characters were moved to the main event room and set up within Santa's vignette area.
To incorporate company branding, we used Spudley (LPC's mascot) in place of the beloved Max character. We also added Spudley into the gamification component of the event and created custom bauble ornaments for the Grinch Trees.
Elements of the event included:
– Cookie Decorating
– Movie Theatre Nook
– Crafts
– Live Entertainment and Music
– Contesting
– Santa and Gifts
– Food and Beverage
All event design was intentional to account for elements that factored in the wide age range of guests, various personality types, company brand, and stimulating all senses.
In an effort to maximize spends, the decor design included prop elements that were used from the Adult's Christmas Party that took place the week before. We ensured that the aesthetics would be very different from one another but could also utilize some of the same resources in order to maximize the value of different pieces.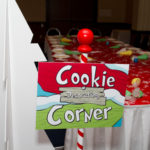 Venue: The Edmonton Inn and Conference Centre
AV: Evolution Audio Visual
Client: The Little Potato Company
Event Planner, Decor, Props, Crafts, and Onsite Staffing: Tycoon Event Planning & Promotions
Graphic Design: Backstreet Communications
Cookie Decorating Station: Cake Affair
Magician: Indigo Circus
Santa Throne: Stagecoach Design and Event Rentals
Grinch Trees: Tickled Floral
Event Photographer: Avonlea Photography Studio
Custom Grinch Tree Baubles: Backstreet Communications