On Saturday, September 16, 2017 the Little Potato Company celebrated their staff, all 250 'spuds' and 150 guests, at their annual Family Day event.
In knowing how important the company's employees and family culture is to the Little Potato Company, in addition to aligning with their company values, we wanted to curate an experience that truly symbolized the heart and nature of the organization.
In order to create a sense of community and capture the company's spirit, the concept of the event was "A Good 'Ol Fashioned Party". In knowing how important family is to the organization, we were reminded of 50's/60's culture – having family picnics in the park, spending Friday's at the burger shack, going to the drive-in movies, taking a trip to the candy shoppe, and so on.
This year's Family Day event was Tycoon's take on a 50's/60's aesthetic and titled "Welcome to Spudleyville".
To create a retro town feel, we created vignettes throughout the event space that one might come across if walking through the town. They included:
– A thematic entrance into the event
– Terrific Trio Diner: floats, banana splits, burgers, fries, poutine, potato salad, and more!
– Sugar Shack: a hosted candy shoppe featuring a thematic host, candy's of the 50's and 60's, and customized, on theme, cookies
– Blushing Belle's Amusements: contest and giveaways (classic toys of the 50's and 60's: YoYo's and Paddle Balls)
– Sock Hop: DJ area playing upbeat tunes of the 50's and 60's
– Sailor Jerry's Tattoo Parlor: custom greaser Spudley airbrush tattoos
– Spudleyville Park: guests could play classic lawn games of the 50's and 60's
– The Little Potato Company Family Snapshots: photobooth area where we had customized leather jackets for guests to use
– Little Charmers Toy Shoppe: kids got to paint hot rods and color, complete with greaser Spudley stickers to use as decoration
– Vintage Cars on showcase and a vintage car photo opp cut out with greaser Spudley as the passenger
– Professional YoYo Trick Artist roaming throughout the event to interact with guests and teach tricks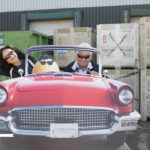 Client: Little Potato Company
Event Planner, Stylist, and Onsite Support: Tycoon Event Planning & Promotions
Custom hanging planters and pots: Tycoon Events
Florals and Greenery: Greenland Garden Centre
Rentals: Special Event Rentals
Vintage Cars: Resto Revolver and Sunburn Auto Appraisals
Graphic Design and Printing: Backstreet Creative
Candy Selection: Gummi Boutique
Custom Cookies: Milk & Cookies Bakeshop
DJ: DJ Kwake
Photobooth: Flashworks Photobooth
Leather Jacket Lettering: Wink Ink Design Co
Food Trucks: Truckin Good Eatz and The Crooked Fork
Ice Cream, Floats, and Banana Splits: Revolution Ice Cream
Giveaways: The Promo Addict
Crafts: Modern Mama Edmonton
Event Photography: FO Photography
Sugar Shack Host and Costume: Indigo Circus
YoYo Artist: Jensen Kimmitt
Airbrush Tattoos: Temp Tattoos and Party Rentals