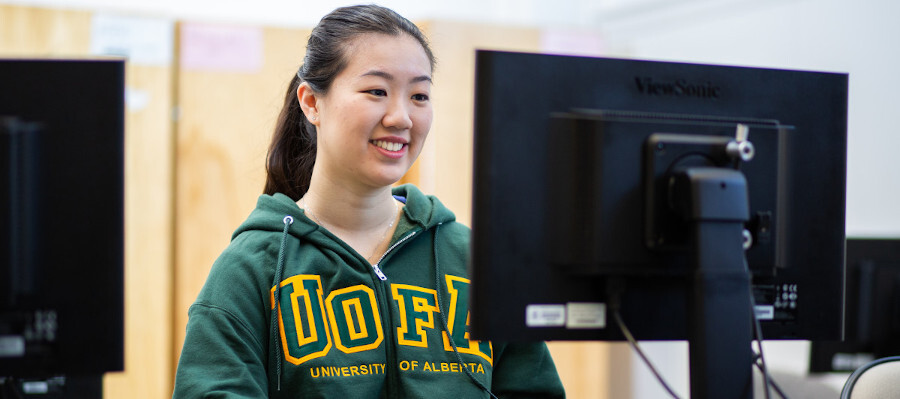 Finding the right post-secondary option can be challenging enough, never mind in the midst of a pandemic!

The Event:
As a recognizable leader with a long standing reputation as one of the top 51 nationally acclaimed post-secondary institutions, the University of Alberta's (U of A) annual Open House attracts droves of prospective students and their family members each year.
With attendance of over 10,000 people on campus in 2019 — including staff, students, and exhibitors — the U of A Open House planning team knew they would have to respond quickly with a creative and innovative approach to upholding "the largest recruitment event of the year" amidst the uncertain recruitment landscape of Fall 2020.

The Challenge:
When the Tycoon Team was approached with the challenge of assisting to move the Open House event to a completely virtual event for the first-time ever, we were thrilled about the opportunity. After months of delving head-first into the world of researching, attending, and honing in on all there is to know about online events and the many virtual platforms that exist (see Tycoon's Virtual Event Resource), we couldn't wait to put our years of industry experience and newfound learnings into practice.
The Open House's target demographic is largely made up of the high school/gen-z population that's widely receptive to the benefits of a virtual event (i.e. digesting content when and how you want it). However, we couldn't forget that parents and guardians, as well as exhibitors (a.k.a faculty members, university support staff, and other working professionals of varying backgrounds), make up another important segment of the attendee base, and would need to stay top of mind in the planning process.

The Considerations:
While the parameters of a virtual event are no longer required to adhere to our typical restrictions of time and space (…venue space, that is), we found ourselves juggling between a number of considerations. Among the top were the learning curves of both breaking common behavioral norms of a 'typical presentation' and the restrictions of a condensed timeline that the U of A team was forced to face as they pivoted to a whole new virtual platform world. Leveraging the 6Connex virtual event platform, the goal was to bring the campus experience online, in a way that is just as valuable, and interactive as it would be in person. It was also important to ensure that our approach would allow prospective students to tailor their attendance based on what information they are looking for and when it best fit into their schedule to attend!
Planner Tip: When planning a virtual event, it's important to keep in mind that your platform becomes your venue. As we began to think about all of the possible touchpoints and opportunities for engagement in a physical venue, we wanted to replicate those same meaningful connections within our available virtual capabilities.
Finding opportunities to educate, while offering practical resources and creating experiences that resonate in a meaningful way to the gen z audience, were important considerations. Our goal was to ensure that all initial planning discussions prioritized an engaging and interactive virtual event design, while supporting the University of Alberta's brand and appealing to the needs of the various demographics.
We also wanted to consider the longevity of the format and the possibility of leveraging content and learnings for a smooth transition and potential application in hybrid events, in upcoming years. Using a tech-based platform, provides the ability to measure the analytics of our audience engagement levels and completed activities, which will be useful for succession planning and tailoring future event content. We know that the data and insights that are possible through a virtual platform will also be helpful for connecting with student attendees and staying top of mind, after the open house event.

The Real Deal to Virtual Appeal:
To further inform our discussions on event design, we began to imagine a week in the life of a university student and how to create that experience for a high school student. While this year's event couldn't replicate the energy of a buzzing and packed Butterdome, there were several opportunities to facilitate the types of interactions they could encounter and leave them with a sense of what it's really like on campus and what their life may look like as a U of A student. There was an exciting opportunity for the U of A team to consider the adventure we were taking these students on and incorporate a realistic interpretation of campus culture. In finding the right fit in a post secondary institution, prospective students will want to get a feel for: who they will meet, how they will feel, what challenges they will overcome and what sense of community they would leave with, to last a lifetime.
To get in the right frame of mind, we took a page from the travel industry. While we truly don't know what it's like to travel to another country until, well, we've done it — we establish a sense of the culture, the experiences, the sights, the sounds through the narrative we receive. Whether that's videos from tour guides, from photos of friends and hearing tales of their adventures. Somehow there are many travel based companies that are able to generate a sense of 'missing-out' on an experience without ever having experienced it first hand.
This is what we would need to portray to prospective students. We'd want to capture the essence of the U of A experience. The pride of becoming a part of the green-and-gold community.

The 'Where Are They Now?':
Three full days of jam-packed content that ranges from presentations to interactive tours and workshops, to discussion groups with both peers and professors, faculty and program booths, gamification, social engagement, and so much more!
To take full advantage of the online environment, while reducing barriers and extending the accessibility to a wider audience across all of Canada (and beyond), a variety of virtual formats will include live, simulated-live, and fully-produced, pre-recorded content. This will then be offered across multiple dates and times for attendees to tune in at their leisure.
As we work on finalizing the three-day event schedule, we'll continue to encourage all presenters, hosts and facilitators to consider the "why" of what they're offering to these students and their family members. What is the message, what is the goal, how is this content best consumed to achieve that goal, what do we want them to do with this information?
So here we are… just over a month away from the first-ever, multi-day Virtual Open House. While there's much to do to ensure all exhibitors are on board, and that the U of A team is set up for the BEST Open House to-date, it's always nice to take a step-back and reflect on the learnings and considerations that have brought us to where we are.
Stay tuned for the final Case Study, upon completion.
And… P.S If you know someone who's thinking about post-secondary education, registration opens on Oct 5 and the event runs from Oct 15 – 17, 2020. Check it out!

– Your Tycoon, Lyndsey XO

1 Top Universities in Canada 2021