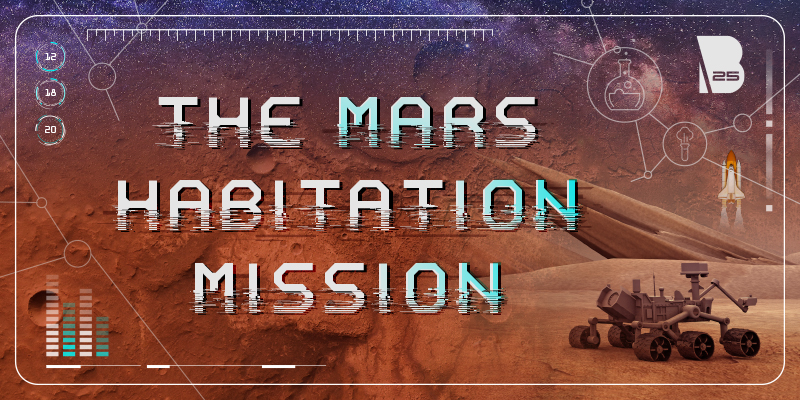 When your current planet is on lockdown, what choice do you have but to take your guests on an 'out of this world' adventure to Mars! Introducing the Mars Habitation Mission.
For two years in a row (see A Holiday Adventure Like No Other and Le Cirque De Rêves), the Tycoon team brought our A-game to assist BioWare's Edmonton Studio with their annual holiday party. But, as you may expect, if we were to tell you we weren't a bit intimidated to bring everything online in a way that could impress BioWare's team that (let us remind you) lives in the virtual world… we'd be lying. But for us Tycoons, we feed off of a good challenge, and when approval was received with just 4 short weeks out from event day, our crew suited-up and was more than ready for take-off!
During the summer months, when we were feeling optimistic — as many event professionals may have been, that 'this' (i.e. COVID) would have been resolved by the winter — we began our brainstorming process for the possibility of a live event or hybrid event. Initially developing six different ideas, we narrowed it down to two different themes that would be put-on-hold until October, when we'd have a bit better of an idea on what type of restrictions we'd be working with. As we came to terms with a fully-virtual holiday event, it was back to the drawing board on how either of the proposed themes and corresponding activities could be translated and transformed to a virtual environment.

Virtual Event Platform Vs. Zoom
As we went along, one major discussion point became one that reigns true for many of our colleagues in the industry: To use a platform, or not to use a platform — that is the question.

After exploration, comparison, and a very accommodating customer service team from Socio, it was not for lack of trying that we ended up with the 'no-platform' approach of Zoom, as a stand-alone solution — but, we made it work!

25th Anniversary Easter Eggs
In past years, based on the request of our client, any branding or reference to the BioWare assets have typically been kept to a minimum. However, being that 2020 marked an incredible milestone of BioWare's 25th Anniversary, we were given the opportunity to include a few franchise specific nods, throughout. The benefit of going digital allowed for a bit more freedom and flexibility with imagery (especially on a much shorter timeframe than usual). Leveraging the gaming world convention of planting Easter eggs, we layered in imagery, narrative, iconography and even background music from both Mass Effect and Dragon Age, along with the BioWare 25th Anniversary logo in unique and surprising places throughout the various event activities. These hidden-gems were incorporated into:
Snapbar Virtual Photobooth
Intergalactic Entertainment (our DJ dance party)
Interdimensional TV (our Improv performance)
Zoom Background Images
Mad Scientist Pre Recorded Videos
The Event Design and Activities
With an anticipated attendance of 300 – 350 guests, we wanted to ensure that the evening included a variety of different activities and menu items; allowing a little bit of something for everyone. The make-up of our activity mix included comedy, music, a virtual game, a virtual photo-booth, a craft-kit; and of course, good-eats, sweet-treats, with something to 'cheers' and a place to 'meet'.
In alignment with the theme, guests were encouraged to participate in the following 'Missions', supplemented by a 'Package from Earth' that was delivered directly to their home, to enjoy on the day of the event.
---
MISSION INTERGALACTIC ENTERTAINMENT
Photo credit to Nick Hirschmann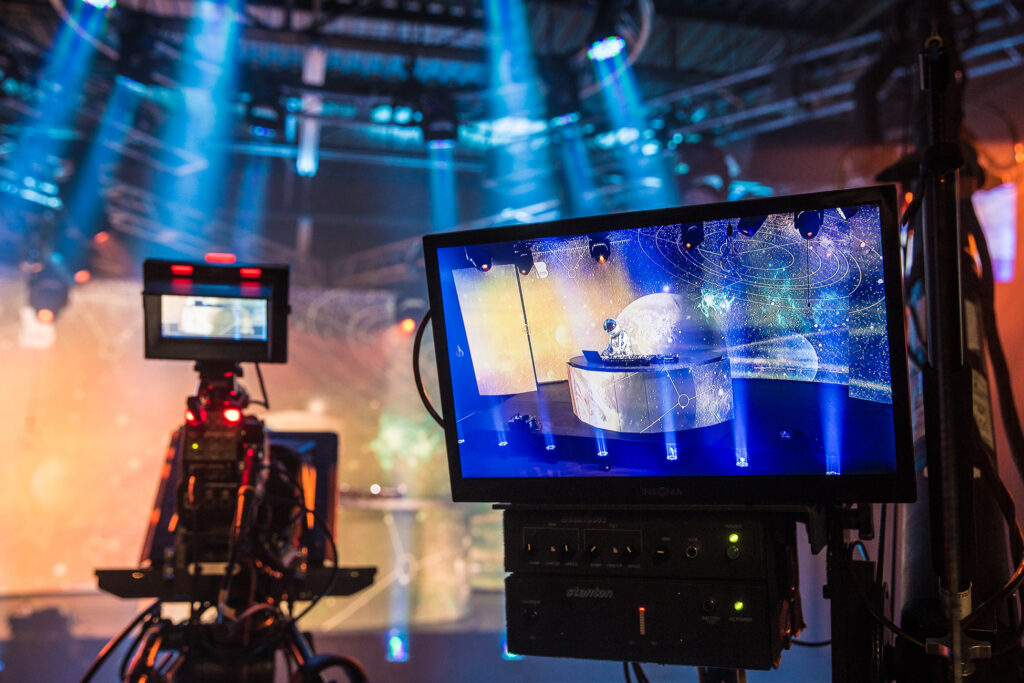 Throughout the full duration of the night, guests were able to enjoy a live DJ and light show that was hosted and streamed from Production World Studios. Lighting and digital backdrops of Mars, the solar system, and several clips and images from BioWare's franchise games complimented the audio experience. Our DJ, 'Commander' Joses Martin played the part in an astronaut suit and guests had the ability to interact with one another, the DJ, and the moderator by posting comments and requests in the live chat box.

MISSION INTERDIMENSIONAL TELEVISION
Photo credit to Nick Hirschmann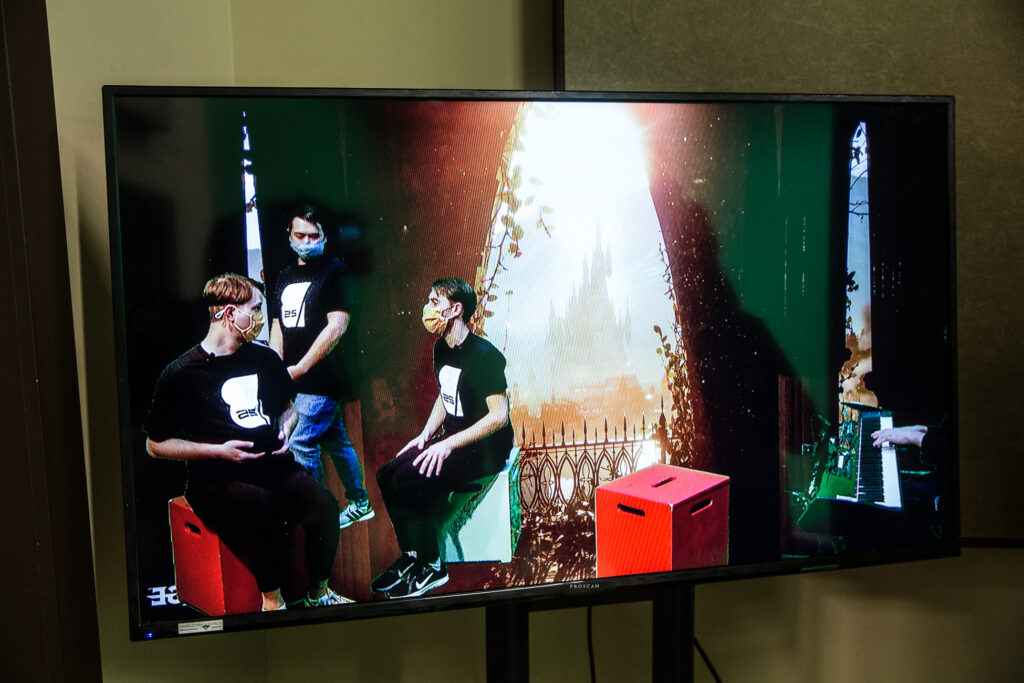 For the element of comedy, guests were able to tune in and enjoy an epic 3.5 hour improv marathon where the Rapid Fire Theatre team acted out different 'interdimensional channels,' accompanied by the uber talented Erik Mortimer for musical improvisation. The live chat box allowed guests to submit their requests and suggestions that would inform the direction, characters or narrative of each 'television' show. A variety of props and costuming, along with a library of images that set the scene through the green-screen at Production World Studios, surely contributed to the hilariously-creative entertainment value.

MISSION ESCAPE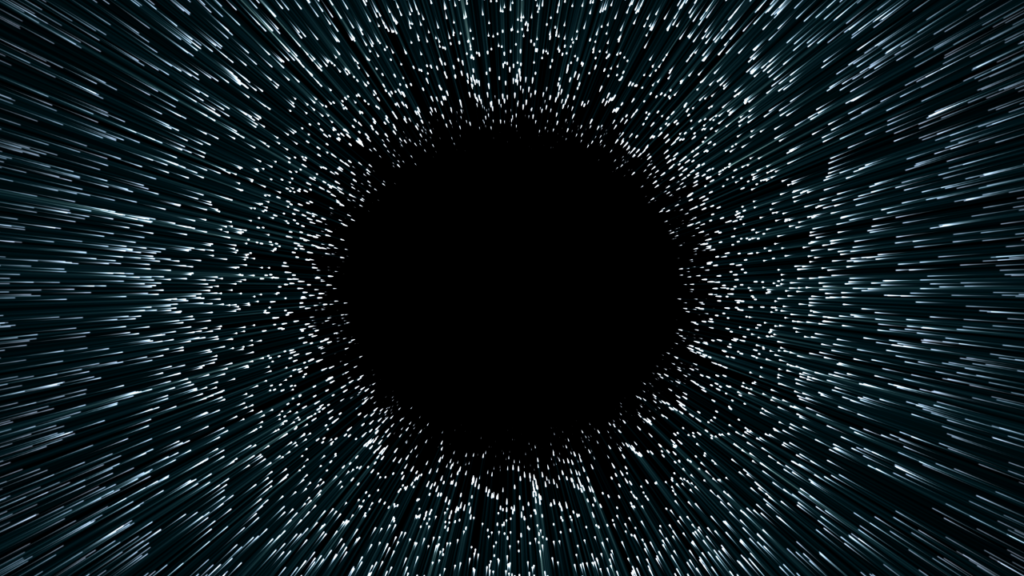 To bring out an element of team comradery, guests were able to register for one of 3 different time slots where they could take part in a virtual escape game. Hosted by The Escape Game, guests participated in teams to follow the clues and complete this 'mission'.

THE GALLEY
Background image of The Citadel from BioWare's Mass Effect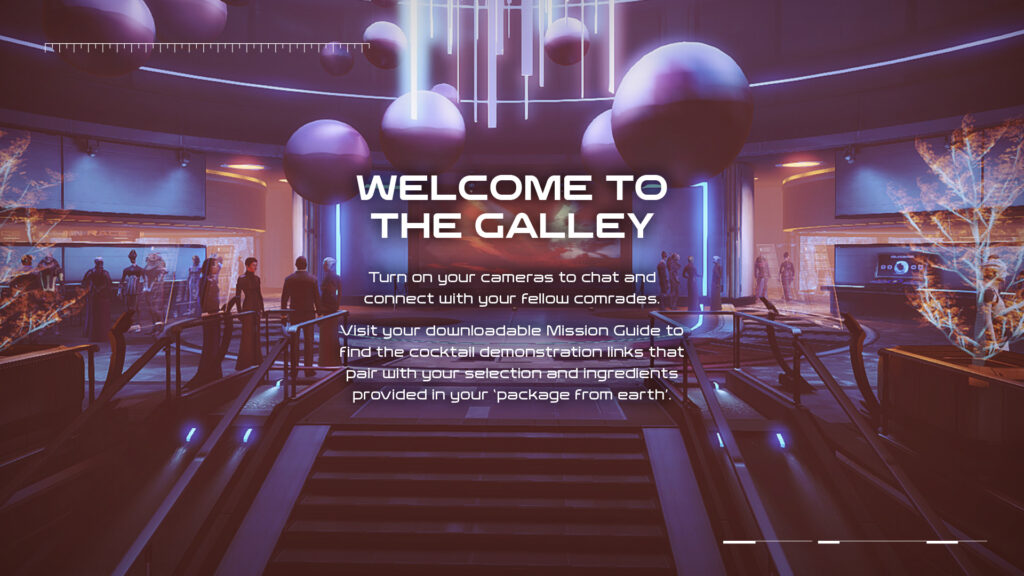 The Galley Zoom Meetings room, acted as the gathering place for guests to socialize and 'hang out' with one another. The chat and video function were enabled so that guests could mix and mingle with one another, while enjoying their space-themed cocktails and treats, in good company.

MISSION MAD SCIENTIST
Photo credit to Nick Hirschmann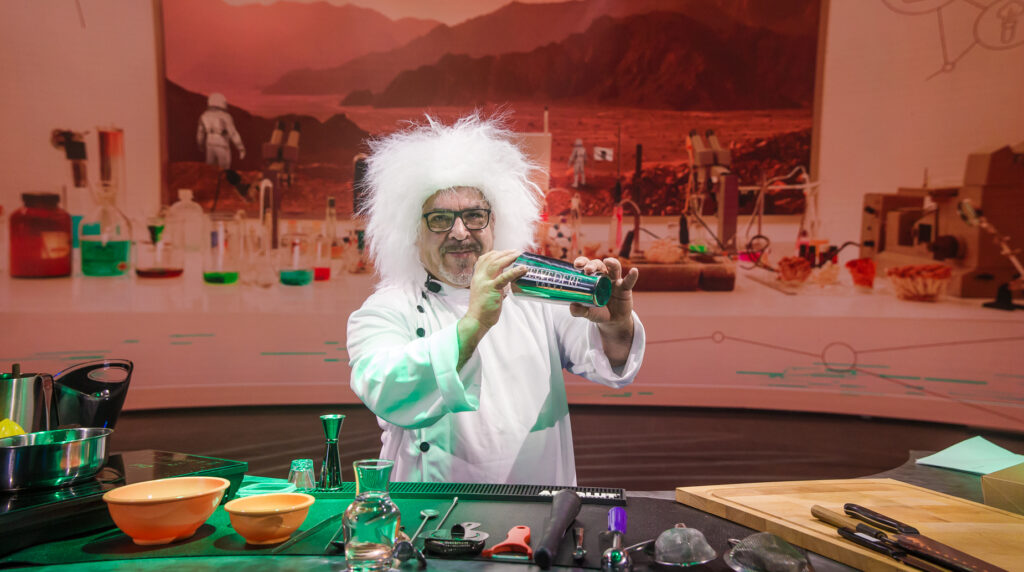 As part of the 'Mars Habitation Mission,' a 'scientific study' was created among all participating lifeforms to test whether the effects of earth-based substances provide similar mood-enhancing results when presented in the liquid form and consumed on mars by a variety of life forms. Based on the guests' individual selection from 6 different space-themed cocktail options (alcoholic and zero proof), guests were able to participate in the study by using their home-delivered ingredients and watching video demonstrations of 'Chief Scientist' Erick Rosende (Ultimate Bartending) to learn how to mix and make their space-cocktail.

MISSION 'SAY CHEESE'
Photo credit to Joses Martin via Snapbar
Guests were encouraged to commemorate their evening with a photo, by visiting the virtual photo booth. Leveraging Snapbar's options for customization, several themed backgrounds, stickers and frames were available for guests to personalize their image.

MISSION ZODIAC
Photo credit to The Witchy Stitcher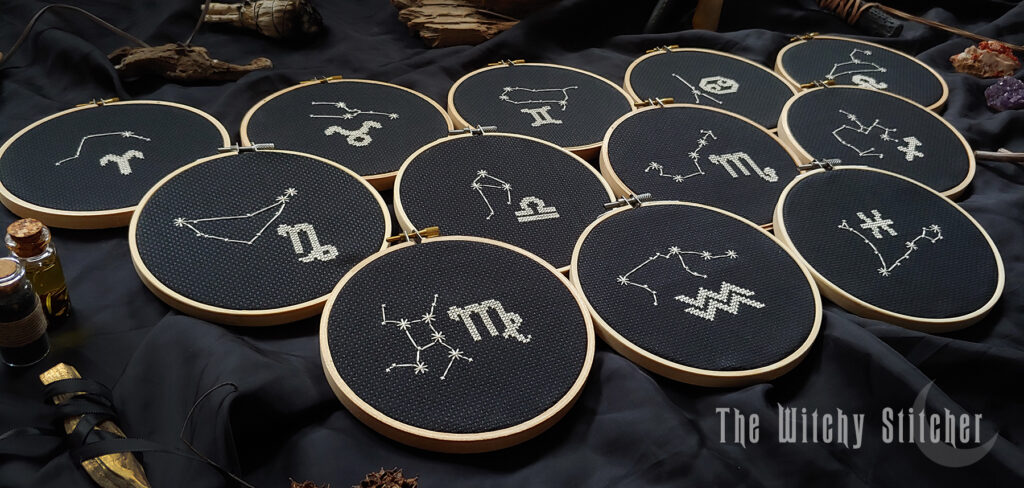 This 'mission' offered a self-guided craft that encouraged guests to 'chart their own course' and discover a message among the stars by creating a personalized Zodiac constellation through embroidery hoop art, based on their own astrological sign!

EXPERIENTIAL HOME-DELIVERED PACKAGES
Photo credit to Nick Hirschmann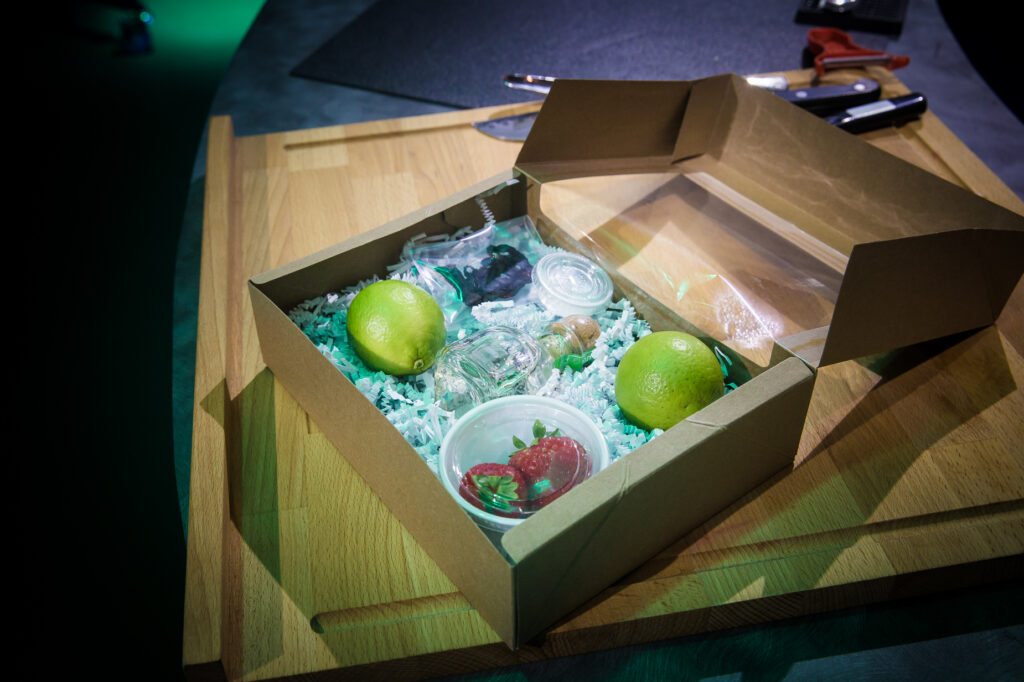 Guests received a 'package from Earth' to include the sustenance and tangible supplies required for the event's activities. Their home-delivered items included:
a space-themed meal of their choice (provided by Bridges Catering), with 4 different catered menu options to choose from,
ingredients to build their own space-themed treat (provided by Bridges Catering), with 2 different options to choose from,
a mixing kit for their preselected space-themed cocktail, where guests could choose from 6 different alcoholic and zero-proof options and tune in to follow along in a video demonstration from a 'Mad Space-Scientist';
along with, art supplies to make a zodiac embroidery hoop that was personalized to their astrological sign, and more!
---
Comrades, well done! You've successfully read all about the Tycoon planning process behind BioWare's 2020 virtual holiday event, 'The Mars Habitation Mission'. This concludes your expedition!

Now that you have reached the end of this blog and completed your mission, you can click here for additional event details and to check out more photos from the event!